Episodes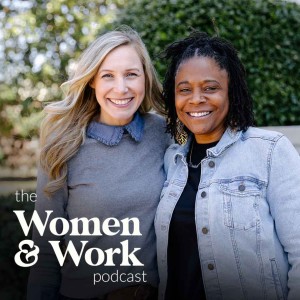 Wednesday Oct 05, 2022
Wednesday Oct 05, 2022
This episode of the Women & Work podcast features an interview with Dr. Karen Swallow Prior, a Research Professor of English and Christianity & Culture at Southeastern Baptist Theological Seminary. 
She is the author of Booked: Literature in the Soul of Me (T. S. Poetry Press, 2012), Fierce Convictions: The Extraordinary Life of Hannah More—Poet, Reformer, Abolitionist (Thomas Nelson, 2014), and On Reading Well: Finding the Good Life through Great Books (Brazos 2018). She is co-editor of Cultural Engagement: A Crash Course in Contemporary Issues (Zondervan 2019) and has contributed to numerous other books. 
She is host of the popular podcast Jane and Jesus. She has a monthly column for Religion News Service. Her writing has appeared at Christianity Today, New York Times, The Atlantic, The Washington Post, First Things, Vox, Think Christian, The Gospel Coalition, Books and Culture and other places. She is a Contributing Editor for Comment, a founding member of The Pelican Project, a Senior Fellow at the Trinity Forum, a Senior Fellow at the International Alliance for Christian Education, a Senior Fellow at the L. Russ Bush Center for Faith and Culture and is a former member of the Faith Advisory Council of the Humane Society of the United States. 
She and her husband live on a 100-year-old homestead in central Virginia with dogs, chickens, and lots of books.
In this episode, Dr. Prior discusses with Courtney and Missie:
–– Why she considers herself first a reader before a writer
–– How she realized writing and teaching were what God had called her to vocationally and how 
     listeners can discern their own calling
–– How she helps readers navigate literary pitfalls as well as read in light of the gospel
–– How reading builds character and how literature can help us discover "the good life"
–– How her work as a writer and professor images God
–– How she views her own unintentional childlessness in light of her profession
–– Advice for aspiring writers 
Mentioned on the Show:
If you find that the Women & Work Podcast is inspiring you to more confidently step into your God-given calling and view your work as meaningful to the kingdom of God, would you consider partnering with us by making a tax-deductible monthly or one-time donation? Go to womenwork.net/donate today. Thank you!